Why should I cloak affiliate links?
There are several reasons to cloak affiliate links. My advice is to always redirect affiliate links.  The main reason is to hide from search engines like Google that you are an affiliate with messy URL links pointing to other websites.  Google measures content and user experience in SEO rankings.  A site over populated with affiliate marketing links is not a good user experience.  A site with great content and happens to have some helpful affiliate offers is a much better experience.
The second reason for affiliate link cloaking is that it is by far the best way to protect your affiliate links and hard earned commissions. Do you know how easy it is for someone to hijack your affiliate commissions? It's very easy. If you're promoting affiliate links and not hiding your affiliate ID, then you are prone to commission theft. The potential thief simply replaces your affiliate ID with their affiliate ID during the purchase process. They get the commission, and you get absolutely nothing! Affiliate commission hijacking is an unfortunate reality and occurs frequently in 2nd tier affiliate networks.
Affiliate Link Cloaking is the best way to protect affiliate links
The affiliate marketing industry is a messy channel to track your hard-earned commissions. If your goal is to make money online with your blog, then you must have a link cloaking and tracking system. The main objective is to help you track every sale and every lead in your sales funnel to the origin click the drove the action.
Most bloggers are ignorant to this practice. They simply place the provided affiliate link and hard code it into multiple pages across their blog.  As a result, this is a time consuming problem when a merchant changes URL links or moves affiliate networks.  You will have to manually find and replace these links across many pages. With a link tracking and cloaking system, you can manage all of your affiliate links in one central management system. You get real-time data and reporting on your important marketing campaigns to make you a smarter marketer.
Related: What is Affiliate Marketing: Step-by-Step Guide
Get Smart with Link Cloaking
There are several schools of thought when it comes to link cloaking.  Customer link cloaking such as Cpanel redirects, .htaccess file redirects, HTML redirects, javascript redirects, or plugins. There is debate among affiliates relating to speed vs ease of use.  I use Linktrackr for link tracking and cloaking. The technology can be integrated with a simple WordPress plugin and no developer skills required.  It's not only ease of use, but the fact that you get robust reporting and dashboards that no developer script can provide.  Now I can watch all of my affiliate commissions being earned.
With LinkTrackr, you can prevent affiliate theft by making use of their affiliate link cloaker. Instead of revealing affiliate links in a long and ugly format like this..
http://www.aweber.com/affiliates/aff_id=1543
.. you can hide everything and show a more natural, pretty link like this:
http://www.foxlink.me/aweber
With their user-friendly web interface, you can do URL cloaking easily even if you have zero technical skills or programming knowledge. The first step in cloaking your affiliate links is to create a new tracking link, which acts as redirect to the actual landing page or affiliate offer. This will give you a masked affiliate link. but to get true link cloaking where the destination URL is loaded within an iFrame and hidden from visitors, just enable the link cloaking option: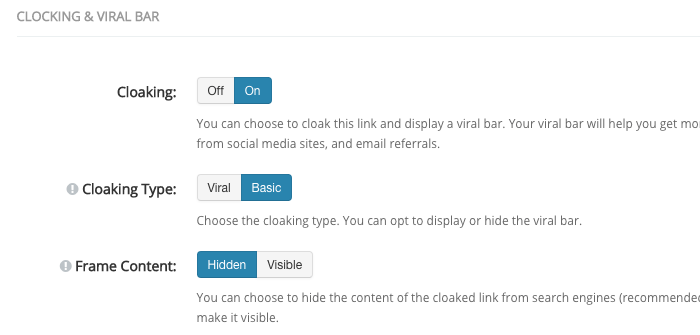 You can choose to cloak affiliate links with Linktrackr's viral marketing feature to get free viral traffic from FaceBook and social media sites:
Custom Domain Link Cloaker
Linktrackr allows you to use your own domain name as I do below. You can then promote affiliate links across many niche markets or verticals with a single centralized account. You then get a great looking, short URL like mine below:
http://www.foxlink.me/linktrackr
Here's how LinkTrackr's link cloaking software can help you earn more commissions:
Protect your commissions from thieves & hide your actual affiliate link from potential buyers.
Cloak affiliate links and get others to share them on social media with their viral marketing tools.
Track affiliate commissions easily with SubID tracking, pixel tracking or postback URL.
Manage your affiliate promotions with ad tracking and PPC ad management.
Get in-depth, meaningful reports on your clicks & conversions.
The Linktrackr tool is a professional grade tracking tool with amazing analytic and reporting dashboards.
Cloak affiliate links and masking affiliate links in central location.
Create campaigns to track ads from banners, emails, ad swaps and blog posts.
Centralize your PPC campaigns and discover which keywords make money.
Track multiple sales and leads throughout your entire sales funnel using conversion tracking.
Track conversions on your own site with an effective pixel solution.
Sub ID tracking to track commissions across multiple affiliate networks.
A/B split testing to discover which landing pages convert better.
Split your traffic with a URL rotator.
Related: How To Build a Solid Blog Foundation
Conclusion
All serious affiliates use a good link cloaker, or some form of custom link cloaking to cloak affiliate links. If you're not cloaking your affiliate links, you're losing money. Period. LinkTrackr is a 100% hosted link cloaking software solution. This means there is nothing to install, nothing to configure and nothing to worry about. It works perfectly out of the box, like all software should. So go ahead and create your free LinkTrackr account right now to start cloaking your affiliate URLs.
The entry level LinkTrackr basic plan starts at only $9 per month.  This provides 100 tracking links and up to 10,000 clicks per month. If things get serious and you become a super affiliate, you can always upgrade to Pro, Hyper or Extreme plans. They provide a 30-day Risk-Free Guarantee. Only pay for what you use and upgrade or downgrade at anytime. To try Linktrackr risk-free simply go and create an account. Use the coupon code MJFOX to get 20% off any plans.
What's My SEO Score?
Enter your URL to generate an SEO report
jQuery(document).ready(function($) { $.post('https://www.realmichaeljfox.com/wp-admin/admin-ajax.php', {action: 'wpt_view_count', id: '2001'}); });