A blog foundation is similar to high-rise building foundations. Imagine constructing a high-rise building in Florida or San Francisco. They need to be hurricane proof or earthquake resistant. What makes them work under such load or strain. It starts with a strong foundation of concrete, steel pilings deep in the ground and shock absorbers to absorb movement.
Your blog stack is no different. The development stack or foundation you chose will make you or break you. It will determine what kind of traffic load you can handle, how much content you can hold, and how fast it can be accessed on your reader devices. As a result, your blog foundation could collapse when a strong gust of traffic hits your site.
Constructing the stack
Growing your blog audience has never been easier.  As an eCommerce marketing guru, I am committed to teaching novice bloggers and marketers how to grow their traffic. Then use that traffic to actually convert sales funnels for profits. As the owner of a successful eCommerce retail site, it took me until we had an email list of 500,000 subscribers to understand the importance of the list. When you go and sell your company, you will learn that data or your customer base is the only value you have. So many affiliate sites and blogs don't capture leads and email addresses. They are essentially springboards or lily pads in a big pond trying to make small commissions off of high acquisition cost traffic.
With that said, I recommend you build your blog with that in mind. Your software stack should be wrapped around getting your website visitors into your email automated marketing system.  Email marketing is overlooked by most bloggers. Don't make the same mistake and ensure you build it into your blog foundation from the start. The email marketing list is what separates the pros from the small time bloggers.  In today's world of blog profits, you must have a mailing list.
Aweber Email List Management
Email marketing has the best Return on Investment (ROI) in the eCommerce marketing channels. It has the best click thru or open rates out of any marketing medium.  Selecting the appropriate email marketing system is the most important stack layer in your blog foundation.  this marketing automation tool is what gets offers in front of your visitors turned subscribers. Once in your email list, your marketing becomes automated while you sleep.  The email marketing system allows you to add autoresponders, sign-up forms, integrations with social platforms, email newsletters, subscriber segmentation, HTML email templates, landing pages, email analytics, subscriber management, drag and drop editor, mobile apps, email marketing APIs, blog newsletters and email deliver ability tools.
My email marketing software service of choice is Aweber.  They are the service of choice in the blog and affiliate marketing industry. Try it Free for 30 days. Includes all features and support. Starting at $19 per month.


Try AWeber's Autoresponders for Free
StackPath MaxCDN Content Delivery Network
As your blog traffic load increases, the speed to download content is critical.  Readers who click and have to wait for content will quickly abandon the website. Your Hostgator hosting plan runs on a single server location in a single City.  I run on Hostgator and my server is located in Houston, TX.  If your host is in Houston, then a visitor in Chicago has to wait for content to download that distance. We are talking split seconds, but that's important when visitors expect instant 1 sec or less load times.
A Content Delivery Network (CDN) pushes your content to edge location around the country.  With your content now cached on thousands of servers around the country, visitors download from the closest CDN server near their local market.  CDN's deliver your content on the fastest route possible.  Your blog will run much faster, therefore it will improve performance and your Google search ranking. Google measures site speed & SSL security as SEO ranking factors.
CDNs are quite affordable these days where in years past only major sites could afford them. MaxCDN or Stackpath offer an affordable monthly plan with no long term commitment. Start today with a 15-day Free trial for $20 which gets you 200GB of bandwidth per month.  That's a cost effective way to improve your Google rank.
Link Cloaking and Tracking System
Affiliate marketing is a messy channel to track your hard-earned commissions. If your goal is to make money online with your blog, then you must have a link cloaking and tracking system. The main objective is to help you track every sale and every lead in your sales funnel to the origin click the drove the action.
Most bloggers are ignorant to this practice. They simply place the provided affiliate link and hard code it into multiple pages across their blog.  As a result, this is a time consuming problem when a merchant changes URL links or moves affiliate networks.  You will have to manually find and replace these links across many pages. With a link tracking and cloaking system, you can manage all of your affiliate links in one central management system. You get real-time data and reporting on your important marketing campaigns to make you a smarter marketer.
I use two link tracking and cloaking systems for this blog.  I use Linktrackr and URL Shortener Pro, with different purposes in mind.
URL Shortener Pro is a premium WordPress plugin that can automatically link certain keywords in all of your posts to short URLs or affiliate links.  An example would be if I have the word "Amazon.com" in 50 of my blog posts.  With the tool, you could automatically change all by making that word a link that points to Amazon.com using your affiliate URL.  It's also for branding with my domain name.  I use URL Shortener Pro to create URLs with my domain name and then forward them to social media site.  I take my Facebook URL https://facebook.com/realmichaeljfox and I brand it as https://www.realmichaeljfox.com/facebook .
The Linktrackr tool is a professional grade tracking tool with amazing analytic and reporting dashboards.
Link cloaking and masking affiliate links in central location.
Create campaigns to track ads from banners, emails, ad swaps and blog posts.
Centralize your PPC campaigns and discover which keywords make money.
Track multiple sales and leads throughout your entire sales funnel using conversion tracking.
Track conversions on your own site with an effective pixel solution.
Sub ID tracking to track commissions across multiple affiliate networks.
A/B split testing to discover which landing pages convert better.
Split your traffic with a URL rotator.
The entry level LinkTrackr basic plan starts at only $9 per month.  This provides 100 tracking links and up to 10,000 clicks per month. If things get serious and you become a super affiliate, you can always upgrade to Pro, Hyper or Extreme plans.They provide a 30-day Risk-Free Guarantee. Only pay for what you use and upgrade or downgrade at anytime. To try Linktrackr risk-free simply go and create an account. Use the coupon code MJFOX to get 20% off any plans.
Landing Page Builder and Lead Generation Software
To get visitors into your email list, you need to get them into your sales funnel.  How do you do this you ask?  Well, you need a landing page builder and lead generation software to promote your offers, opt-in forms, sign-up forms; etc. You may offer a free eBook as a lead magnet.  You would build a landing page sales funnel that would provide the eBook offer and provide the sign up form in order to get the eBook download.  Once the visitor signs up and gives you their email address, then you need to deliver the eBook asset.  This is known as an asset delivery system.
Leadpages is the number one landing page builder and lead generation software in the world. Leadpages is the only platform that lets you collect leads and customer contacts from landing pages, pop-up forms, social media, text messaging, and email. Their simple interface and built-in optimization tools are ready to make your next campaign the easiest and most successful one yet. Pricing starts at $25 per month for Standard service, $48 per month for Pro and $199 per month for Advanced. There is a 39% discount when you then pay annually.  You will be generating leads and revenue in no time.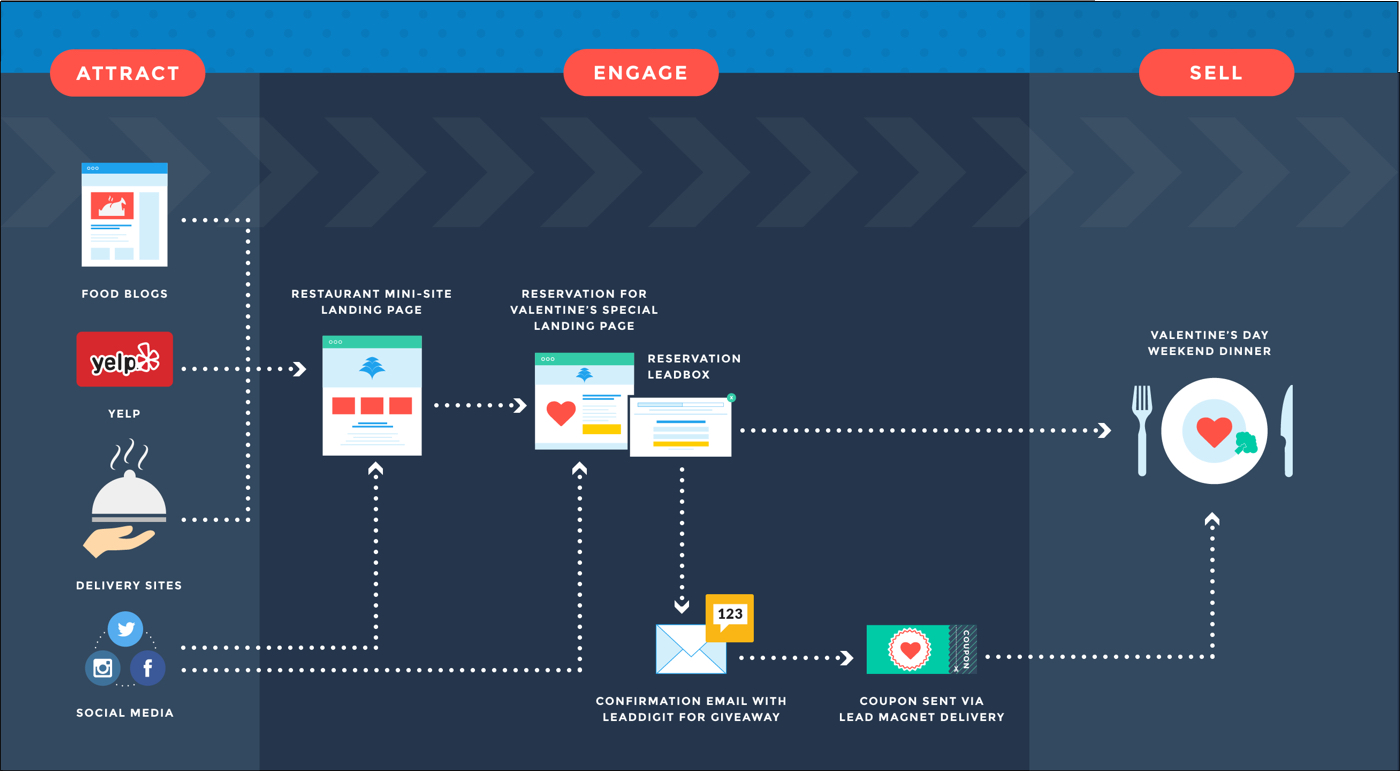 VaultPress Backup
Now that you have built your blog stack and invested hour of time on your blog, you need to think about a backup system.  You're not safe and a backup system will provide you peace of mind. Too many bloggers take the risk and fail to think about backing up their work.  It's essentially your insurance policy and every business should have insurance.  VaultPress is the most powerful backup and security system for WordPress blogs.  The premium WordPress plugin will back up your site automatically and secure it off-site with their world-class infrastructure. This means they back up every blog post, picture, page, comment, revision and setting.  Everything.
VaultPress has an amazing and powerful dashboard to manage your backups and security.  You can monitor VaultPress activity in real-time, restore your backups automatically, scan your site for security vulnerabilities, and fix security threats with the click of a button.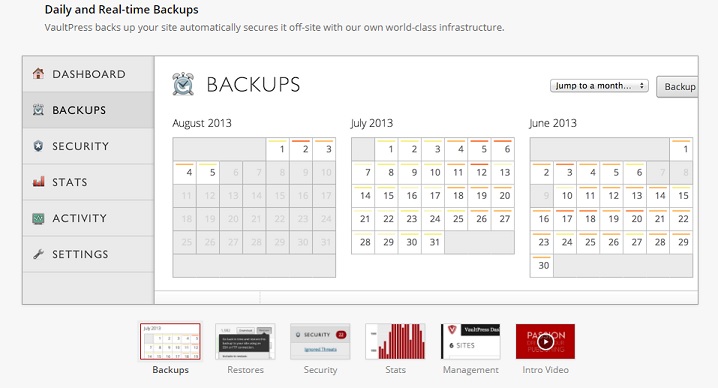 VaultPress is a premium WordPress plugin brought to you by the owners of WordPress. They have three plans available: Personal and then Premium and Professional for business sites. They have simple and affordable pricing at $3.50, $9,and $29 per month respectively. Most bloggers go with the personal plan as the business plans add video hosting and unlimited back up timing. This is very inexpensive insurance for your income producing blog.
Conclusion
Before you start throwing together stack layers of the blog foundation, be sure to understand the role of each of the building blocks as well as their priority. This will allow you to create a very powerful blog foundation that can support you and your customer base. The proper foundation blocks are not free, yet the cost is nominal compared to the revenue opportunity.  Don't expect you are going to make a six figure earning blog and not have to spend a few hundred dollars or more to operate it.  To make money online blogging, you have to treat your blog as a real business. Real businesses require operating expenses.
I recommend you add the layers of your blog foundation one at a time as you scale. Start with Linktrackr and VaultPress.   Then add  MaxCDN,  Leadpages and Aweber when you really want to start converting traffic and making real money.
What's My SEO Score?
Enter your URL to generate an SEO report
jQuery(document).ready(function($) { $.post('https://www.realmichaeljfox.com/wp-admin/admin-ajax.php', {action: 'mts_view_count', id: '24'}); });