What is Marketing Automation? A Step-by-Step Guide
Marketing automation: it's a popular buzzword in the marketing climate as of late. Everyone seems thoroughly excited by it, but what's the deal -really? What is marketing automation? And could it help your brand reach your objectives?
If you are a marketing sleuth, you will notice many technical signals on social media or other platforms. Signs that marketers are using apps and technology vs manually publishing content.
For example, you may be looking on a brand's Facebook feed, reading their posts and see the following tech signals: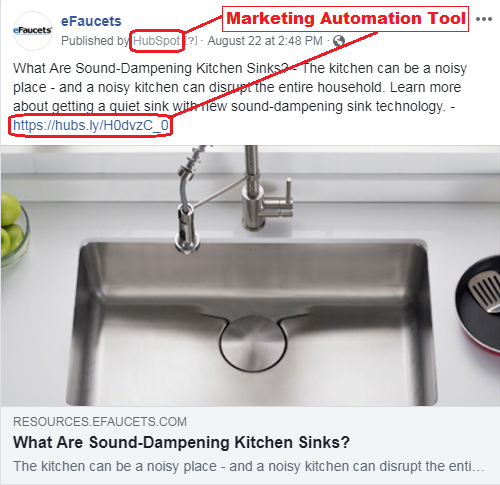 Or you may be using Twitter and you just followed a brand that caught your attention.  Within minutes you receive a message thanking you for the follow like this:
In the example above, eFaucets is publishing to social networks in the same place they build their campaigns and host their landing page. This allows them to easily share blog posts, landing pages, and other content with the same tool they use to build their marketing campaigns.
Most people start by manually publishing content directly to LinkedIn, Facebook, Instagram, Twitter, and Google+. eFaucets is using marketing automation software called Hubspot to connect their social media accounts to their blog and automatically share new content as it gets published. They can schedule content for later, get suggestions for the best times to post so they can get their content in front of their followers at exactly the right time their users are engaging.
In the Twitter response, this is called an autoresponder.  In today's world of rapid social growth, brands can't keep up trying to manual engage with one users at a time.  They turn to software programs to do it for them on a mass scale.
This is marketing automation at work. 
You will want to learn from this and use it to your advantage by simplifying your marketing efforts so you can prioritize your social interactions, save time and connect with the people that matter most.
Social media is a really big deal right now. It's taken over the world, with hundreds of social networks to manage and billions of users worldwide. There is no way for a single marketer to efficiently manage all of them.  I can barely manage the top 5 platforms as those consume a lot of time to effectively communicate with an audience.
So, how do you maintain your Twitter, LinkedIn, Facebook, Google+, Instagram, Snapchat and other social media networks, all at the same time?
Marketing automation is your solution.
Now, many of you marketers may be reading this and feeling a little inadequate about your expertise.  "I am a marketing expert, but I have not heard of marketing automation and why am I not well versed in it".  Don't worry, the majority of your colleagues don't know what it means either.
Lucky for you, this is why you are here. I am about to teach you what marketing automation is and how you can use it to grow your traffic, increase your email subscribers and build your following.  All why you sleep.
Here's what you need to know.
Defining Marketing Automation
According to HubSpot, "Marketing automation refers to the software that exists with the goal of automating marketing actions. Many marketing departments have to automate repetitive tasks such as emails, social media, and other website actions. The technology of marketing automation makes these tasks easier."
Who Marketing Automation Helps
While marketing automation has many potential applications, it's most popular among ecommerce companies that want to create a low-work online store. These merchants use marketing automation software to, hopefully, push personalized content out to users, close leads, and manage the various steps of a sale.
When used correctly, marketing automation can go a long way to generate new revenue and provide a positive ROI. Although it takes some start-up effort, the final goal of marketing automation is to essentially have a tool handle your marketing for you.
Wondering if you're a candidate for marketing automation? Here are a few sure-fire hints that the answer is "yes."
Your website isn't generating the leads you want. Sure, you have a "contact us" page, but you're still not getting the conversions you want. Investing in great marketing automation can flip this on its head by setting you up with a landing page and a call to action that captures genuinely interested leads while they're still hot.
Your leads aren't converting. So people are downloading your offer, but they're not making a purchase? Marketing automation is a great way to create a lead nurture workflow that can change this trend.
You're having a hard time organizing leads. What's your strategy for keeping leads organized? Do you have a strategy? If not, marketing automation is a great way to create smart lists and implement social monitoring that allows you to keep tabs on your online experience.
You're sick of using so many applications. If you're sick of juggling various marketing applications, marketing automation can roll together several features into a single, convenient dashboard. This makes managing your online presence easy and streamlined.
Related Article: How to Build a Blog
The 5 Types of Marketing Automation for Business
There are 7 major segments of online marketing that can be automated by software technology. Marketing departments can automate repetitive tasks such as emails, social media, and many website actions.
1. Customer Relationship Management (CRM)
2. Landing Page Automation
Email Marketing Automation
3. Social Media Automation
Spend more time connecting with the people who matter most with time-saving tools that help you prioritize your social interactions.  Spend less time sifting through social streams,
and make more time for the people who matter.
Publish to social networks in the same place you build campaigns.
Easily share blog posts, landing pages, and other content with the same tool you use to build your marketing campaigns.
Manually publish content directly to LinkedIn, Facebook, Instagram, Twitter, and Google+, or connect your social accounts to your blog and automatically share new content as it gets published.
Schedule content for later, and get suggestions for the best times to post so you can get your content in front of your followers at exactly the right moment.
Monitor social mentions, and connect with people who matter.
HubSpot links social interactions to real people in your database, so you can see deep context and prioritize conversations with the people who matter.
See every interaction with your messages, and create custom keyword monitoring streams for everyone on your team to surface the interactions they care about.
Then trigger email alerts to specific people on your  sales team when a prospect mentions you or a specific keyword or hashtag. You'll never miss an opportunity to engage with followers, nurture leads, or delight your customers.
4.
5. Inbound Marketing
6. Marketing Analytics
7.
The 6 Essential Rules of Marketing Automation
If you're interested in beginning to use marketing automation in your company, there are a few must-follow rules. Here are the top ten:
1. Revisit Your Goals Before you Automate Anything
Marketing automation can be an incredibly effective tool, or it can drain your marketing budget. Make sure you're avoiding the latter by revisiting your goals before you automate everything. While automating your current processes won't take you very far, changing things up might.
2. Integrate Automation With Inbound
If you think your inbound marketing and marketing automation live in separate camps, think again. For best results, you want to integrate marketing automation with your inbound strategy. Ideally, this will enhance both efforts and ensure they're supporting one another.
3. Stay Away From General Messages
The whole point of marketing automation is customization and personalization. If you blast out general messages willy-nilly, you're going to create a e that your company is spammy.
4. Personalize Everything
For your marketing automation to work as well as possible, it needs to be personalized and highly targeted. Not only does this make customers feel seen and appreciated, but it's a great way to drive them through the sales funnel more effectively.
5. Nurture Current Customers
When you implement marketing automation, it's easy to get so wrapped up in closing leads and selling new customers that you forget about your current customers.
Don't make this mistake. Instead, focus on catering to the affinity your current customers have developed for your brand, and finding new ways to get them to buy more.
6. Dedicate Some Time to Customer Engagement Campaigns
Remember that it's always easier to sell to existing customers than it is to sell new customers. With this in mind, dedicate some of your time to focusing on existing customer engagement campaigns. This keeps your current customers coming back, and is easy to do with marketing automation.
Painting the Whole Picture
Marketing automation is an essential tool for anyone who wants to streamline their marketing efforts without expending a whole bunch of additional hands-on work. When done correctly, it can be an excellent way to engage new customers, keep your current customers coming back, and ensure you're making the most of personalization and content distribution.
As a business owner, you're just like any other business owner out there. You want to see your company succeed, but you're not a machine. There are only so many hours in the day and trying to do it all on your own is a surefire recipe for burnout and exhaustion. This is one of the primary reasons marketing automation is so valuable.
When implemented correctly, marketing automation can be a major boon to your company, boosting your results and ensuring you create the engagement you need, without additional work you can't manage.
What's My SEO Score?
Enter your URL to generate an SEO report
jQuery(document).ready(function($) { $.post('https://www.realmichaeljfox.com/wp-admin/admin-ajax.php', {action: 'wpt_view_count', id: '3009'}); });