Yoast SEO is currently considered the most comprehensive content analysis software available for WordPress users. The SEO & content analysis tool in the Yoast SEO Plugin measures many aspects of text you're writing. These checks run in real-time as you type your blog posts, which means you'll receive feedback and scores while writing.  The content analysis will guide you to have easy to read text, while the SEO analysis checks to make sure your text is SEO-friendly.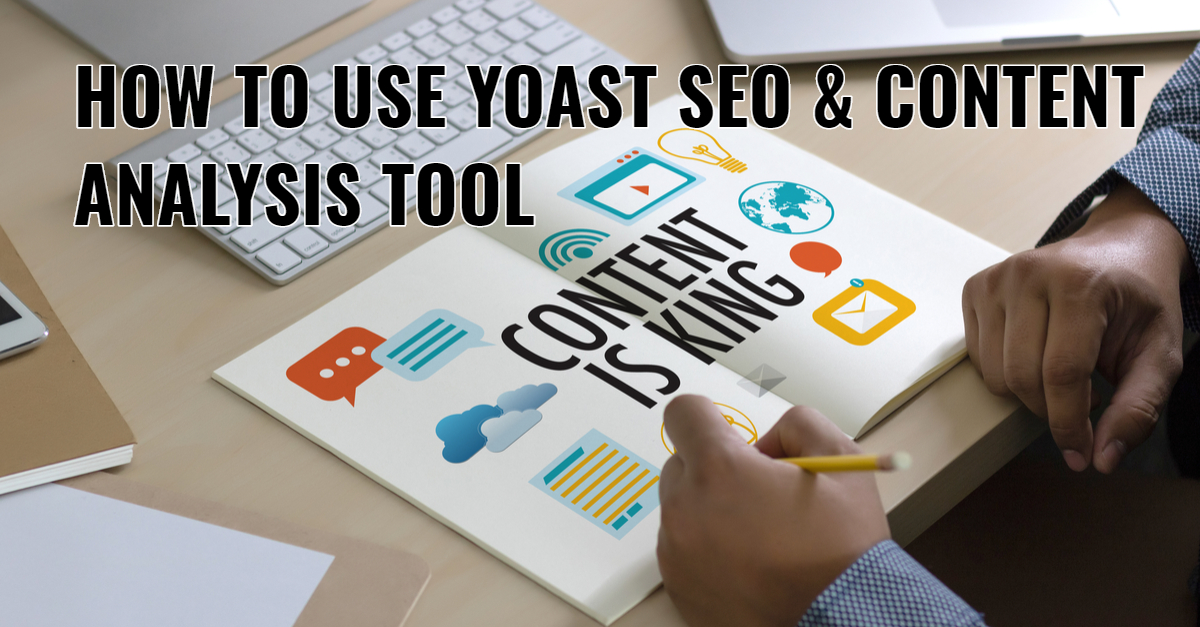 Reminder! Content before SEO!
Content is king!  Always remember that when performing SEO & content analysis that content trumps SEO.  That means that you always need to write for the reader before you write for the search engines.  Your blog post content needs to be unique and valuable to the reader.  Otherwise there is no point signaling the search engines to come over and ready your worthless content. It's like inviting a group of people to your house for a party.  You need to provide good entertainment or else everyone will leave.
Enter Your Text into the WordPress Admin
I recommend writing your articles directly into the WordPress Admin for blog posts or articles.  Why do this versus drafting it in a text editor? Simply because the Yoast tool will rate your readability and SEO score as you type.  The plugin will highlight when your sentences are too long, lacking transition words, low focus keyword density and ease of reading.
When you start your draft, make sure you enter a title and a URL slug for your article.  Then ensure you have set subheadings such as heading 2 (H2 tag), heading 3 (H3 tag) and so on. Then continue drafting your article until the readability and SEO tab turn to a green light for approval.
Readability and Content Score Tab
Clicking on the readability or content analysis tab will let you view your scores on readability checks. The bullets next to each ranking factor will either be red, orange or green.  Your goal is to get each bullet to turn green to maximize your score.  Orange and red bullets indicate areas where your readability needs improvement.  There is an eye symbol that will highlight your problematic text when clicked.
These content checks will ensure that your article is easy to read for your visitors.  You want to make sure that the overall bullet at the top of your page and under your publish button is green. The overall page bullet will turn green when the majority of the readability factors are satisfactory.
The readability analysis consists of the following readability checks.
sentence length
paragraph length
use of subheadings
presence of passive voice
presence of transition words
Flesch reading ease score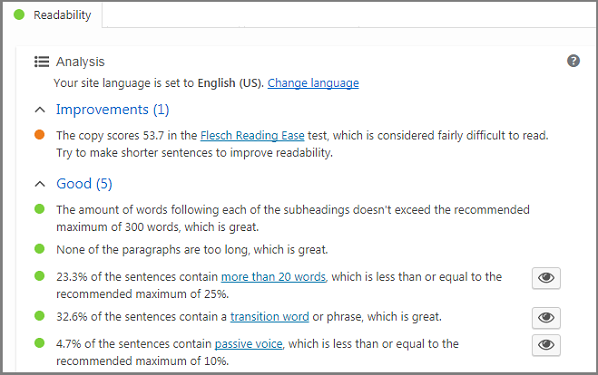 The example below shows text highlighted in purple where the sentences are too long or lack a transition word.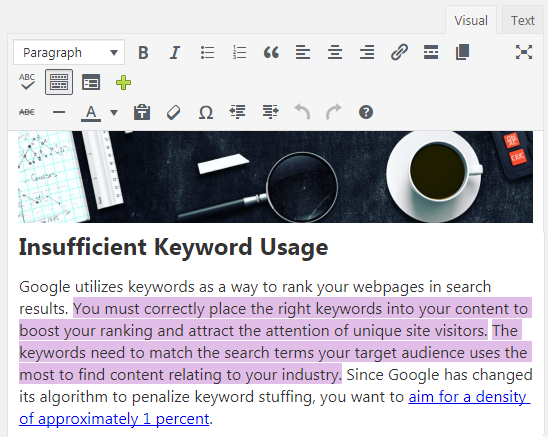 Insights Tool
The second component of the readability tab is the Insights tool which analyzes the words used most within your article. this will help confirm that your focus keyword is the right word or to ensure the most used words actually match your focus keyword(s).  If you use the Yoast SEO Premium version, you can add multiple focus keywords if your desire your article to rank for multiple words.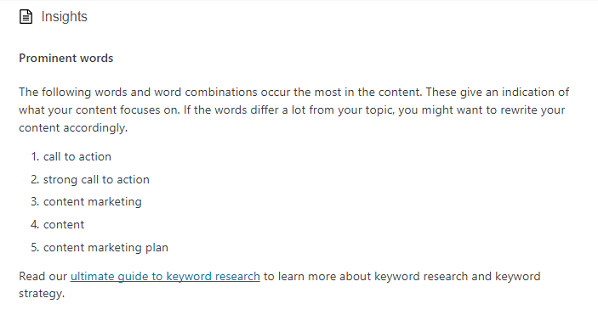 Make Your Content Adjustments
Not everyone is an professional SEO copywriter or english major. The readability and content checker helps the everyday blogger stay in check. Things you have done right will get a green bullet point. Focus on the remainder in orange and red. Some of the readability issues will be simple fixes.
Many people write sentences that are too long which Yoast considers more than 20 words. The tool will highlight them so you can break them multiple sentences or rewrite them.  If your paragraphs are too lengthy than you should break your article into smaller bit size pieces. Yoast will tell you if you have more than 300 words per subheading and you can then break the content by adding more subheadings.  Many non-english majors use passive voice too often when writing.  You will get recommendations how to get this down below the allowable 10% ratio.
Your content needs to be easy to read especially if you are trying to teach a topic to the masses. This is measured by the Flesch Reading Ease score. This is probably the hardest scores to fix as it involves the most rewriting.  One has to look at the difficulty of multi syllable words used and the length of sentences.
Another challenging English class topic is transition words. Words such as 'therefore', 'because' 'most importantly' are popular transition words that give direction to your readers .  Transition words should be in at least 30% of your sentences in order to rank high in the search engines.  I always add transition words under my conclusion subheading such as 'therefore', 'summarizing', or 'thus' to direct the reader.
SEO Analysis Tab
The second tab of the Yoast SEO and content analysis tool is the SEO tab. With the SEO tab, there is what's called the snippet editor, the focus keyword field and the SEO checklist scoring system.
The snippet editor allows you to create a meta description and see a snippet preview of how your page will appear in Google SERP.  The description needs to fill the box and describe what your page is about. The meta description should include the main term people will use in Google to find your page and this is known as the focus keyword.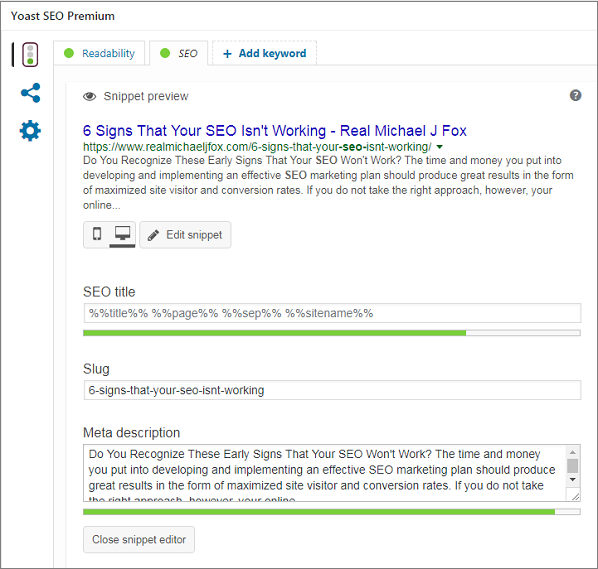 Enter Your Focus Keyword
Once you've entered your focus keyword, the SEO analysis tool checks for the presence of your focus keyword in several locations throughout your page. The Yoast SEO Premium version allows you to optimize your pages for multiple keywords. Hence, allowing you to drive more traffic to single pages based on multiple keyword searches.

The 6 locations where the focus keyword should appear:
The SEO title of the page:
A heading;
In the URL toward the front;
Within the content of the article;
In the meta description;
Within the alt tag of the images
The Yoast SEO plugin checks the inclusion of links and images in your content text. It calculates focus keyword density as a percentage of total words.  The tool also determines whether you are using the focus keyword for other pages.  It is recommended that you don't use the same focus keyword for other pages that you are trying to rank for the same term.  Otherwise your pages will be competing with each other in the search engines.
If your content text is SEO-friendly then the plugin will provide a green bullet in front of each factor listed above.  Your goal is to modify your text until all the factors and page get the green light. This will help you improve the ranking of all of your pages when Google crawls your site.
Cornerstone Content Analysis
After you enter your focus keyword, you need to select whether your article is cornerstone content.  Cornerstone content pieces are the articles on your website that you want to showcase the most. They need to be very well written and reflect the overall goal of your website. These are the articles you would like to rank highest for in the search engines. Cornerstone articles are usually over arching themes that combine insights from many other blog posts.
Choose your cornerstones very carefully. Think of five major pages you would like every visitor to read. These articles will be the cornerstones of your site. Which articles are most precious to you? Which articles are the most authoritative? You should write cornerstone articles about the keywords you definitely want to rank for.
If you check an article in Yoast SEO as cornerstone content, the content analysis will more strict. Your article must be longer than the typical blog post.  In addition to that, you can check if these articles are linked to often enough with the text link counter in Yoast SEO.
Write a Meta Description
Always enter a customer meta description for you site and dont let it default to the first 120 words of your article. Clearly describe what your post or article is about.  Look at the example below to show how the meta description box generates the meta description below the URL in Google when someone is searching your focus keyword. Hence, your focus keyword should appear in your meta description.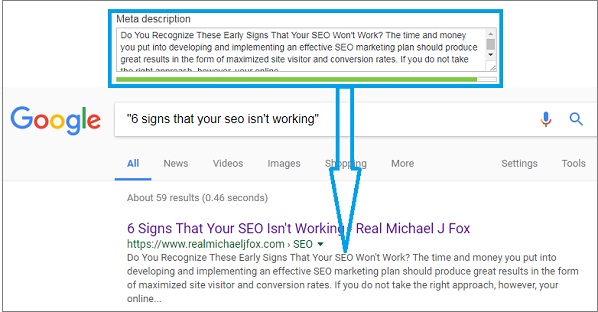 It's important that the focus keyword be included in the meta description. It's a good way to ensure Google shows your meta description when your focus keyword is searched in Google. The search engine is known to match search terms with the description.  Otherwise Google will randomly grab content from your page to display.  Ensure that your meta description is not too long and remains within the Yoast SEO meta description box with a green score.  There is no "Google Penalty" for longer meta descriptions. You have to keep in mind that this description has to be enticing to the searcher on Google. You want them to click your listing because it's logical, matches what they want to learn, and entices them to click through to learn more.
Related Article: Why Metadata Matters For SEO
Yoast Internal Linking
In order for your content articles to rank they need links.  This means internal links in addition to inbound links from external sources.  Internal links help connect your content and provides Google with a structure of your website.  The search engines can then create a hierarchy of your website, allowing you to provide link value to your most important pages.  My articles always link to my important articles known as my Cornerstone content.  Build the right linking strategy and you will boost your SEO.
Check out your SEO Bullets
Make sure you check your green light SEO bullets so that everything is set to go! Green lights indicates the SEO aspect is good. Orange and red lights indicate where you need to improve SEO factors.  Keep optimizing until the overall light turns green. You don't need every aspect green and its ok to have some orange. It's simply important that the overall checkbox is green near the publish button.  This will ensure that the majority of your SEO aspects are covered.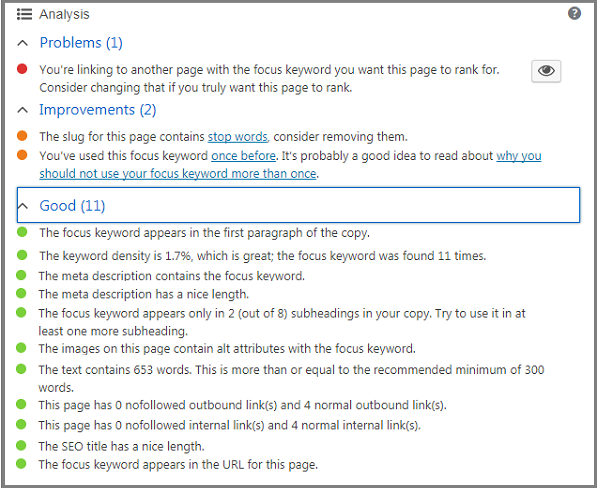 Complete the Social Data Tab
The last step in the Yoast SEO meta box is completing the social data tab.  Yoast uses an open graph protocol to pass images, titles and meta descriptions to social networks like Facebook and Twitter. You may desire custom titles or hashtags based on network and character limitations.  So when you post a URL to each social network, the post will automatically display based on the format you set up in Yoast.  Make sure you set the image and customize the title and description for each network to opitmize your posting.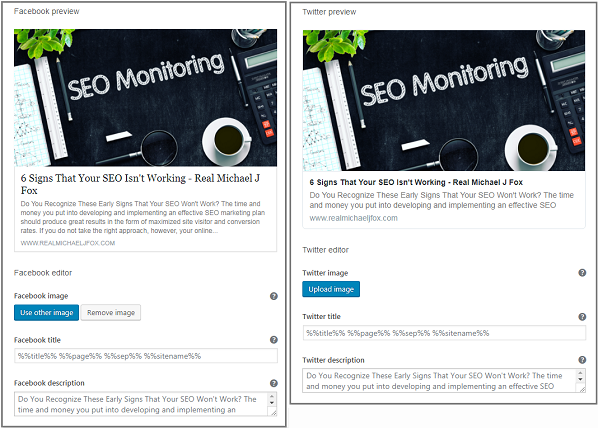 Conclusion
SEO copywriting is not easy.  However, with content analysis of the Yoast SEO tool, makes the process of writing great content and SEO-friendly articles simple.
What's My SEO Score?
Enter your URL to generate an SEO report
jQuery(document).ready(function($) { $.post('https://www.realmichaeljfox.com/wp-admin/admin-ajax.php', {action: 'wpt_view_count', id: '2686'}); });